Mother Matters is owned and operated by Lenore Kilmartin. Our team offers a full range of support for pregnancy, birth, breastfeeding and postpartum. We are committed to providing excellent education, professional help and loving encouragement. We welcome the opportunity to enhance and strengthen the experiences of those in our care. We believe strongly in the value of empowering families with accurate information and support. Each of us brings a wealth of experience and knowledge to our role in Mother Matters and we look forward to sharing our passion with you.
Lenore Kilmartin
Mother Matters Owner, Childbirth Educator, Birth and Postpartum Doula
Lenore is an experienced certified doula who has been helping in the birthing, breastfeeding and postpartum fields for over 35 years. She is the mother of five adult children and grandmother to six grandchildren. As an advocate of empowered childbirth, Lenore has a wealth of knowledge and experience and is especially passionate about educating birthing families. The season of childbirth and postpartum is a unique time where inner strength and innate wisdom combine to allow for positive birthing, breastfeeding and parenting experiences especially when the birthing family has the necessary education and support.
Contact Lenore at lenore@mothermatters.ca.
"My husband and I were absolutely blown away by Lenore and her class! She sets an extremely comfortable environment, and provides extensive information. We left each class feeling empowered and ready for the challenges to come. Lenore has years of experience and it showed! She is very accommodating, and willing to go above and beyond to ensure we felt ready and informed!"
Jennifer Woods
Birth and Postpartum Doula
Jennifer is a certified birth doula with a special interest in supporting families throughout their birthing and postpartum journey.  She holds a B.A. in art history and was a registered veterinary technician before becoming a mother.  Jennifer was an accredited La Leche League Leader supporting breastfeeding mothers.  It was after the birth of her second child, with a doula at her side, that she knew she wanted to help empower birthing families.  She has supported births and families for the past ten years.  She has experience attending home and hospital births as well as VBAC's.  She is the mother of three children and enjoys gardening, camping, visits to the cottage and raising her chickens.  As a doula, she brings a warm, caring approach and encourages families to create their own unique birth story.
"She was the absolute BEST. As I laboured at home Jen was by my side the whole time. She helped my husband use different techniques to comfort me through contractions and she also guided me to use different positions to help baby descend down. It was with Jen's support and care that I was able to labour at home for as long as I did, which was my preference."
Gina Cook
Gina is a certified birth doula. She has been providing support to birthing families since 2013. She found her passion for doula support after attending the birth of her first grandchild. Gina feels inspired when she supports birth as a doula and feels it is an honour and a privilege to attend births. She provides calm, caring and compassionate birth support and has experience attending home and hospital births as well as VBAC's. Gina also has certification as a birth and bereavement doula. Besides spending time with her family and grandchildren, Gina loves riding her horse, yoga and running.
"Gina was a phenomenal birth doula for our daughter. Her birth was nothing short of a marathon, and we could have never managed it without having her at our side. Her many years of experience, incredibly calm nature and never ending patience were exactly the enduring support we needed during one of the biggest physical and mental challenges of our lives."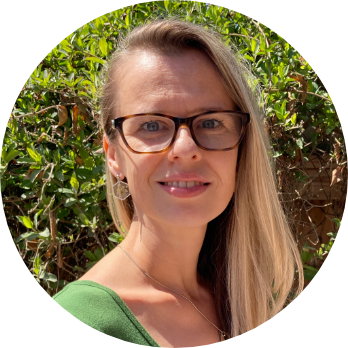 Abigel Salmini
Abigel is an RMT, a trained birth doula and the mother of three children. She has always had an interest and passion for supporting birth. She has taken additional training and has been specializing in pregnancy massage since 2004. During the births of her own children, she had three very different experiences ranging from homebirth to induction. These experiences have given her a strong desire to support birthing families even when their birth plan needs to change. Abigel likes cooking, reading, healing through foods and spending time in nature with her partner, children and family dog.
"We were very lucky to have Abi as our doula. I can't say enough about her! She is so amazing, caring, sweet."
Robyn Lampman
As a doula and childbirth educator, Robyn believes that she passes on the education, care, support and encouragement she received during the births of her four children. Robyn is trained as both a doula and a childbirth educator. She has experience with birth in hospital and home settings. She is a gifted educator with an ability to provide information in a way that is both useful and enlightening and feels honoured to help clients achieve the birth they desire through education and empowered decision making.
Ashley Pickett
IBCLC, Birth and Postpartum Doula
Ashley trained at the International Breastfeeding Centre and became an IBCLC in 2012. Ashley is committed to helping support families on their breastfeeding journey and offers private lactation consulting as well as in-clinic appointments. Ashley is a trained and experienced birth and postpartum doula and holds many certifications including babywearing educator, infant sleep educator and Attached Parenting educator.